Wysyłka
International shipping info below. / Informacje o zagranicznych wysyłkach na końcu. Koszty przesyłki zakupionych przedmiotów są uzależnione od wartości i/lub wagi zamówienia.
Każda z nadanych przez nas przesyłek ma numer śledzenia.
Tabele kosztów pakowania i obsługi wysyłki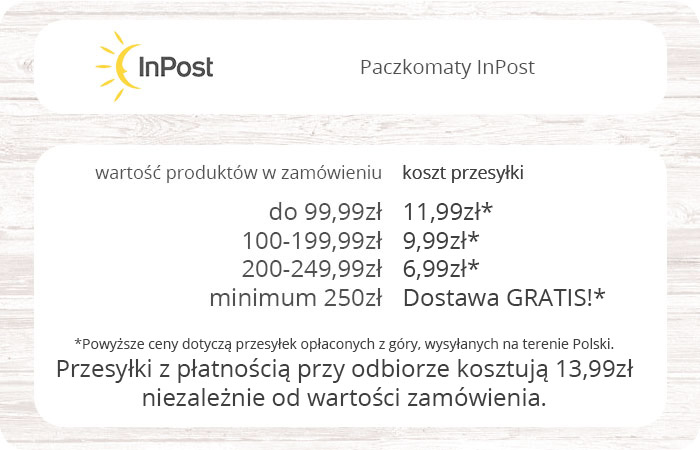 *
Odbiór osobisty zamówień złożonych na stronie internetowej



 W siedzibie naszego sklepiku (ul. Tysiąclecia 36, Otwock) od poniedziałku do piątku w godz. 9:00-15:00 po otrzymaniu powiadomienia e-mailowego, że zamówienie jest gotowe do odbioru.

Przesyłki zagraniczne / Foreign shipment
 Koszty przesyłek zagranicznych ustalane są indywidualnie według wagi zamówienia. Cennik przesyłek zagranicznych (list polecony priorytet dla przesyłek do 2kg, pow. 2kg - paczka ekonomiczna oraz paczka priorytetowa) znajduje się na stronie Poczty Polskiej. Dla cięższych paczek obliczamy indywidualne koszty przesyłek kurierskich GLS.
Jeśli chcesz złożyć zamówienie z wysyłką poza granice Polski, proszę zastosować się do poniższych instrukcji:
1: Ustaw odpowiednie dane wysyłkowe i złóż zamówienie. Jeśli podczas wyboru adresu nie widzisz swojego kraju - skontaktuj się z nami e-mailowo.
2: Potrzebujemy czasu, by spakować i zważyć Twoje zamówienie. Proszę poczekać z płatnością aż skontaktujemy się z Tobą mailowo.
3: Po spakowaniu i zważeniu przesyłki wyślemy Ci e-mail (na adres podany podczas rejestracji) z informacją o kosztach wysyłki oraz podamy dane do przelewu (bankowego lub PayPal). Jeśli uważasz, że koszt przesyłki jest dla Ciebie za wysoki - możesz anulować zamówienie w zakładce "Twoje konto".
4: Zamówienia wysyłamy po otrzymaniu płatności za produkty oraz przesyłkę.
5: Nie zajmujemy się zwrotem VATu ale do każdego zamówienia dodajemy paragon lub fakturę (do wyboru podczas składania zamówienia).

----------------------------------------------------
International shipping prices are determined individually for each order. Pricing list of postal shipments (registered priority letter for shipments up to 2kg, for orders heavier than 2kg - economical or priority package) is visible on official page of Poczta Polska. For heavier packages we can offer GLS shipping determined individually.

If you want to place an order to be shipped outside Poland, please follow the instructions below:

1: Fill shipping addres informations and place your order. If You can;t find Your country on the list - please contact us via e-mail.
2: We need some time to pack and weigh your order. Please wait until we contact you via e-mail.
3: We'll send you an e-mail informing you about the shipping costs and the payment method (PayPal or bank transfer). You may always cancel your order if you decide that the shipping costs are too high (please contact us asap if you want to cancel your order).
4: Your order will be shipped after the payment has been received.
5: We do not deal with returns of VAT in countries other than Poland, however we send receipts or VAT invoices. (Receipt is automatic, if you want to get a VAT invoice - please write it as a comment during placing your order.)